Local farmers blame rainfall for pumpkin shortage | News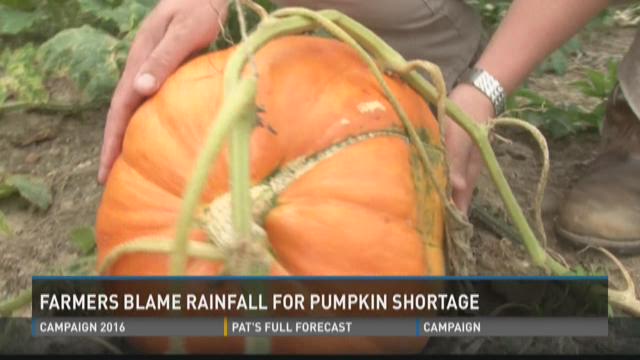 Halloween is just a few weeks away and you might be heading to a pumpkin patch.
Local farmers say record rainfall this summer washed out crops so they're importing pumpkins from other places. Claire Davis spoke with Jed Evans, a Bleckley County farmer to find out what he's going to do to make sure you have the perfect carver.
"This deformation on it is partly due to the wet weather we've had," Evans said.
Evans knows how to turn his farm into a fall, family, fun destination. Daisy Adams Farm in Bleckley County has a corn maze, hay rides, tractors, and of course, pumpkins. But Evans says his crop didn't fare too well this season.
"A lot of late summer, early fall rain that resulted in disease and a loss of pumpkins," he said. "We just had a hard time establishing our stand this year."
He knows farmers aren't easy to please.
"A lot of produce needs rain, but too much rains results in a damaged crop," he said.
But despite the contaminated crop, Evans isn't going to let the rain squash your chance of finding the perfect carver.
"Some good friends up in the Northeast Georgia mountains that are large pumpkin producers. And when we have a shortage here at our farm, we will supplement our pumpkins with some of theirs," Evans said.
The good news is, the rain didn't completely ruin his crop. He's got about a dozen pumpkins that he's grown. Evans also said you don't have to worry about his pumpkin prices breaking the bank.
"We try to keep our carving size pumpkins all less than $10," he said.
A professor at the University of Illinois says canned pumpkin could run low by the Thanksgiving Holiday so you might want to stock up now.
For more information on Daisy Adams Farm, you can visit their website.
Top Bleckley-Dodge-Pulaski Stories