Flooding persists in Laurens, Pulaski counties | News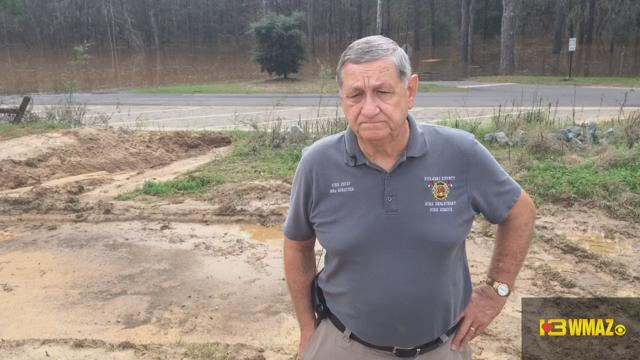 Several Central Georgia Counties are still coping with river and stream flooding after nearly a week of heavy rains.
The flooding that we saw in Macon and some other areas is flowing south, to places like Hawkinsville and Dublin.
Claire Davis spent the day there to learn more about the flooding and who it's impacting.
Water from the Oconee River in Laurens County is still rushing down Rex Miller Road. But Kara Evans and her boyfriend were only worried about the well being of family friends. "Whether or not we'd be able to reach people that lived here. We got friends down the river and most of the roads you really can't go down to get to them. So we are trying to find them to see how they're doing," said Evans.
Evans' long-time family friend lives in this home and so far she says he only has damage to his carpet inside. Laurens County EMA Director Don Bryant says the river has crested, and Evans says she's never seen anything like it. "For the river to be up this high it's really out of the norm. For the most part we stay in a drought so.you can usually walk across it.But to have to use a boat to get out of your driveway is out of the normal," said Evans.
For now, Evans says her friend's backyard is temporarily part of the Oconee River, and he's moved most of his lawn mowing equipment and other tools to the front yard. "Everybody who lives on the river knows that it's a possible risk for flooding. However, it happens so rarely you don't, you aren't prepared when it does happen," said Evans.
Meanwhile, in Pulaski county, Mile Branch Boat Landing off County Camp Road is underwater from the Ocmulgee River. Pulaski Fire Chief and EMA Director Leslie Sewell says the river is at 29 feet, but if it rises to 33 to 34 feet they could face more flooding troubles. "If everything holds true and and the water comes up like they say it will by Wednesday we'll have the highest water we've had since the flood of 94," said Sewell.
Sewell says 5 or 6 families voluntarily evacuated from the gooseneck area, that's on Riverview Drive and Riverside Drive.
Laurens County EMA Director Don Bryant says folks who live down Rex Miller Road might be able to get back in their homes in a few days to start assessing damage. He says he hopes to start reopening some roads tomorrow.
The Laurens County Red Cross Chapter opened a shelter for flood victims at Gethsemane Methodist Church. That's on E Main Street in Dublin. Bryant says people can show up there for help or can give the red cross a call at 478-275-1754.
Top Bleckley-Dodge-Pulaski Stories